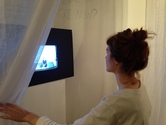 Instructions_13
Co-curated with Travis Head, the premise for this show was a continuation of Travis's previous instructions-based projects. Artists were presented with 13 (both formal and conceptual) instructions to follow in the creation of work. The result was a mixed-media exhibition hosted by East Lansing, MI gallery (SCENE)Metrospace in late 2013.
---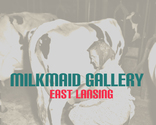 Milkmaid Gallery
After spending the summer of 2006 as an ice cream truck driver, I decided to transform my truck into a mobile gallery named The Milkmaid Gallery.
---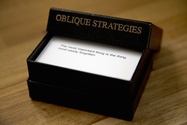 Oblique Patience
In the summer of 2009, I invited friends from all over to submit work for a project called "Oblique Patience". Using Brian Eno and Peter Schmidt's "Oblique Strategies" cards, the participants created work using at least three of those tried and true suggestions. Their beginning subject matter was patience.
The exhibit was shown in May of 2010 at SCENE(metrospce)in East Lansing, MI.